Tuesday, October 16, 2007
Today's will be terse as I'm running late, but need to get in early ....

Yet Another "Scientific" Study of Human "Irrationality"

Allen Prather takes a layman's look at an animal behavior study whose motivation is based on the faulty premise that some aspect of human behavior that doesn't fit into the preconceived notions of socialists is therefore "irrational". Here is one of his reactions: "In other words, if I own something, I should not consider it more valuable than my neighbor's stuff?"

[Oh! And I just had a complete power outage for about two minutes! Firefox's "restore session" feature rocks -- and I never use the word "rocks" -- so that should tell you something if you're using anything else to browse the web....]

The study attempts to examine something it calls the "endowment effect", which sounds like a plausible-enough phenomenon if applied to situations where someone possesses some object of marginal value and declines a trade for another object of similar marginal value.

But even this "effect" is not necessarily (or even usually) an example of "irrationality". To allude to a poorly-presented and questionable example from the news report which I will grant the benefit of several doubts: If I were randomly given an object (e.g., a coffee mug or some chocolate) I did not (at least initially) hold in high value, and then was asked to trade it for something else I did not care that much about, there could be plenty of perfectly rational reasons for not wanting to trade it subsequently.

If I receive a coffee mug, maybe that causes me to I remember that I need one for the office. If the chocolate, maybe I realize I haven't had any in awhile and am looking forward to eating it. Or perhaps, given the chance to examine one object, I have concluded that it is worth keeping, and not worth my time to examine another object.

It is interesting to see this behavior in primates, but that says nothing whatsoever about whether the effect is "irrational". Indeed, if anything, the study provides some evidence that this "effect" has survival value and that to value one's own property, as Allen points out, is rational.

Slaying the Pop CD, Resurrecting Classical

I haven't had the chance to read this article about how the Internet is helping people find and enjoy classical music, but it started out very interesting.

Between 1980 and 2000, classical music more or less disappeared from American network television, magazines, and other mainstream media, its products deemed too elitist, effete, or esoteric for the world of pop. On the Internet,

no demographically driven executive could suppress, say, a musicology student's ruminations on Gyorgy Ligeti's Requiem on the ground that it had no appeal for twenty-seven-year-old males

, even if the blogger in question -- Tim Rutherford-Johnson, of The Rambler -- was himself twenty-seven.

News bulletins were declaring the classical-record business dead, but I noticed strange spasms of life in the online CD and MP3 emporiums. When Apple started its iTunes music store, in 2003, it featured on its front page performers such as Esa-Pekka Salonen and Anna Netrebko; sales of classical fare jumped significantly as a result. Similar upticks were noted at Amazon and the all-classical site ArkivMusic.

The anonymity of Internet browsing has made classical music more accessible to non-fanatics

; first-time listeners can read reviews, compare audio samples, and decide on, for example, a Beethoven recording by Wilhelm Furtwangler, all without risking the humiliation of mispronouncing the conductor's name under the sour gaze of a record clerk. Likewise, first-time concertgoers and operagoers can shop for tickets, study synopses of unfamiliar plots, listen to snippets of unfamiliar music, follow performers' blogs, and otherwise get their bearings on the lunar tundra of the classical experience. [some formatting changes, bold added]
This will strike a familiar chord to fans of such Internet radio sites as
Dismuke's
.
Interestingly, the ability the web confers on some to escape from the stifling confines of modern culture (be it the squeezing out of unusual music or the distasteful ridicule of pretentious know-it-alls) should be considered alongside the ability it confers to others to
behave like barbarians
. The Internet, like any other technology, is neither a panacea nor something to be completely feared. It merely presents numerous unexpected opportunities.
Heh!
This
cartoon
reminds me somewhat indirectly of a recent humorous run-in with a
captcha
at another blog
.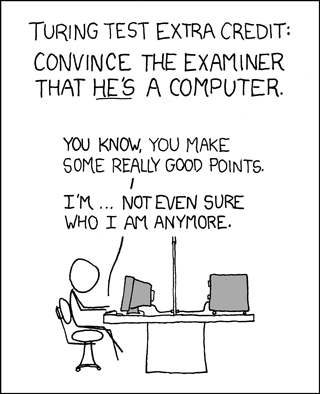 No time to elaborate now, but I had to conclude that either I am a human who can't understand instructions or a badly-programmed computer!
-- CAV
Updates

Today
: Corrected some typos.